Palos Christian Preschool Staff

Kim Stoub
Preschool Director
Kimberly Stoub has been teaching here at Palos Christian since 2013. She has been the Director since 2015. She began her teaching career at a Daycare in 1997 but then stayed home to be with her first born child in 2002. During the years of having premature babies, she helped out at Sunday school, VBS and babysit at her home. Kim has a Bachelor's Degree in Early Childhood Education from St. Xavier University.
Kim and her husband, Mike attend Palos Heights Christian Reformed Church and she is active in VBS, Gem's Girls Club and small group Bible Study. Her husband is an Elder of the church and is active in the choir. They have 3 children. Kayla is a junior at Chicago Christian High School, Courtney is an 8th grader and Logan is a 3rd grader at Southwest Christian Tinley Park. All 3 of her children have graduated from Palos Christian Preschool.
Kim enjoys scrapbooking, reading, quiet time in Bible study and watching her kids play sports. She also enjoys family vacations with swimming, fishing and connecting with the family.
One of Kim's favorite Bible verses is Philippians 4:13, "I can do all this through him who gives me strength." A great reminder in the season of busyness that's called life with kids!

Darla Hoekstra
Assistant Director
| Phone: 708-448-0212
Darla Hoekstra has been teaching at Palos Christian since 2011 and began also serving as assistant director in 2017. God began guiding her to work with young children through opportunities as a Sunday school teacher, an in-home child care provider and a classroom volunteer. Darla has an Associates in Arts degree from Moraine Valley Community College and actively pursues new methods that help young children learn.
Darla and her husband, Tim, attend Orland Park Christian Reformed Church and are active in choir and small group Bible study. They have three grown children, all of whom are graduates of Palos Christian Preschool. Darla is "Grandma" to 3 year old Carter and is looking forward to a second grandchild to be born in February. Darla enjoys travelling, sewing, assisting in theater productions and attending musical and theatrical performances.
One of Darla's favorite Scripture passages is Ecclesiastes 3:1-8. Verse 1 reads: "There is a time for everything, and a season for every activity under the heavens."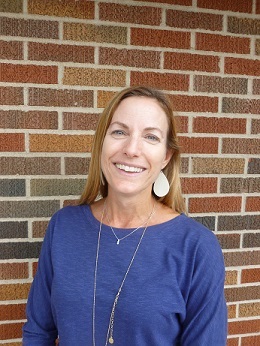 Heidi Jensen
Teachers Aide
I Phone 708-448-0212
This is Heidi Jensen's first year teaching at Palos Christian but has been substituting here since 2013. She has her Bachelor's Degree in K-9 Education as well as a Communication degree from North Park University in Chicago Illinois. Her first job teaching was sixth grade then in 2003 she went to teaching Preschool at Elim Baptist Church, Chicago. After having her second child she stayed home to raise her children. She is excited to be back in the classroom again teaching young ones.
Heidi and her husband, Keith attend Crosswinds Church. They volunteer in the nursery, VBS, and have a small group at their house. They have three children all whom graduated from Palos Christian Preschool. Eli is now 13, Erika, 11 and Eden 8.
Heidi hobbies are reading or listening to books and Podcasts, her favorite Podcast is "Focus on the Family". Once she gets started she also enjoys exercising, power washing and weeding (she hopes to learn to garden). She recently joined BSF and loves exploring the Bible more deeply.
One of Heidi's favorite Bible verses is " 'For I know the plans I have for you,' declares the Lord, 'plans to prosper you and not to harm you, plans to give you hope and a future".